Money Back Guarantee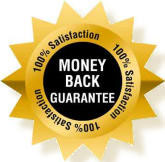 Best Customer Service
MagicKitchen.comcustomer service and products are unsurpassed. We use customer feedback to determine our menu and what stays and what goes from the menu.
When you order from MagicKitchen.combe assured that you will always be satisfied with the products you receive. If you order a product from us and received it spoiled or damaged or if you eat something from us and it is not to your satisfaction just let us know and we will replace it free of charge or credit you for that item.
To give us your feedback, Click Here to Email Usor call us toll free at 877-516-2442, 24 hours a day, 7 days a week!
The food was great, and the customer service was beyond good. Will be ordering again soon!
~Katherine W.

I am delighted to learn firsthand that your customer service is as exceptional as touted!
~Betty P.
I found Magic Kitchen on line and have sent numerous packages that my parents absolutely love! The shrimp fettucini is their favorite but the madeleines dipped in chocolate and the comfort food bundle are home-runs too! Thank you for allowing us to help our dear parents despite us living far away from them."
~Best, Abby
Keep in touch
We would love to hear from you
Toll-Free 877-516-2442